Regula Contra Regulam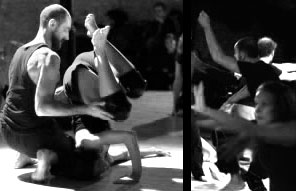 Reaserch programme on Performing Arts
The expression 'Regula contra Regulam' can be understood in two ways.
The first is paradoxical: '[A] Rule against [The] Rule', that is,
a rule that is given in order to fight rules.
The second represents an opposing perspective: 'One Rule against Another'.
Regula contra Regulam evokes the relationship between training and actor's
dramaturgy, between discipline and creativity,
between the need of rules and
the need to break them.
Directed by Raul Iaiza
Place
GTAC - Glasgow Theatre and Arts Collective base
4th floor, 7 Water Row, Govan, Glasgow G51 3UW
Schedule
Friday 1st July 18.00 – 21.00
Saturday 2nd July 10.00 – 19.00 (followed by a work presentation of Raul Iaiza
Fuga sul training [Fugue of Training])
Sunday 3rd July 10.30 – 17.30
Number of Participants
Maximum 14
Cost
£100 – on being offered a place a £20 deposit is required to secure your place.
Places on this session are strictly limited, please book early.

To apply please email a completed application form
to Agnieszka Bresler at Gappad Theatre at
info@gappadtheatre.co.uk
Physical Training
Body rhythms, rhythm in segmentation, accent and counterpoint

Choreography and composition within the space

Plastics and body orchestration (segmentation, dissociation, coordination,
composition)

Balance/off-balance, dynamics and impulses, relation exercises, running, dance of
impulses

Pre-acrobatics and body-grammar exercises (going to the floor, rising, rolls,
somersaults, counter-impulses, jumps and falls)

Floor and dynamic acrobatic exercises, individual and in pairs or groups of three

Work-in-succession: from single exercises to composition to improvisation to dynamic
use of space

Vocal Training and Singing
Vocalization, dynamics and agogics, training songs, relationship between song and
movement, relationship between words and physical training techniques

Extracts from various musical and cultural sources, that aid performance practice

Monodical and choral songs, three-and four- part harmonization

Intonation and dynamics of octaves, techniques of transposition

Physical Actions
Processing of structures and dramaturgy of person-in-action

Group montage and dramaturgy, levels of attention and perception

Links to videos on Regula contra Regulam: